Important: This article only applies to customers who received a notification that your GoMobi Mobile Website Service will be upgraded to Webcard Mobile Website.
Professionaly Designed and Mobile Responsive Webcards
For years, we have offered professionally designed mobile websites. Now it's time for a sleek new upgrade with our new Webcard product! Brandish a progressive and user-friendly business site that will be a reliable destination for your customers– in whatever device they might be on. Your Webcard displays your key business details and images published in a neat and clear format. It also indicates clear calls to action to encourage contact and engagement from customers. What else would you need from an online virtual business card?
Consumers want factual information fast. The Webcard product was designed with this in mind: to be interactive and to the point -- while quickly delivering essential business and contact information to on-the-go consumers. Tying together a great-looking website and a virtual business card ensures that all online visitors can view your business information no matter the device.


Connection, Configuration and Compatability
Our Webcard provides you with the 3 C's: Connection, Configuration and Compatibility.
| | | |
| --- | --- | --- |
| Connection | Configuration  | Compatibility |
| The Webcard allows a variety of users to access business information online. If your business information is not mobile friendly, you will lose visitors due to frustration in not being able to access information easily on a mobile phone. You must have a mobile friendly business location to connect with all visitors. It's a necessity. | The Webcard is the makeup of key content objects regularly looked for by on-the-go consumers, allowing you to quickly and easily publish Name, Address, Contact Details, Social links, Descriptions, and more via a simple and mobile-friendly layout. You can make edits at any time via the secure Editor. The layout of the information is designed for ease of access by mobile users-screens on mobile devices that are much smaller than desktops, so Webcard makes it easy to navigate via a cellphone and take actions such as call or view key information  | The Webcard is compatible with many smart devices. The application detects the types of device and resizes accordingly. Prospects on mobile phones are impatient, so they require information fast and easy to read. Having a mobile-friendly site ensures that your business information is viewed easily.  |
Webcard Key Features and Benefits
| | | |
| --- | --- | --- |
| Feature | Function | Benefit  |
| Easy Setup | We set up and configure the Webcard by tying the information from your website with your Webcard. | We understand your time is valuable; we set up your Webcard for you - allowing you the necessary time to focus on your business. Your Webcard will correctly display your business information while complementing the look and feel of your business website for the growing number of mobile phone users that are looking for your business every day. Your Webcard will automatically load when mobile phone users access your website!  |
| Easy-to-Navigate & Accessible | Webcard is a virtual business card that is easily viewed on smartphones and is specifically programmed to fit the screen dimensions of mobile devices. Webcard's user-friendly features include: contact details, payments options, and announcements.  | You can convert leads and engage mobile users with mobile-friendly features that are programmed to fit smartphone screens! Your consumers will be able to quickly connect with you--helping turn traffic into customers! |
| Mobile Responsive Website Design | A Webcard has a streamlined layout and design. Users can change and select template themes by selecting "templates" in the easy-to-use Editor tool. | Your Webcard will be designed to complement your website. We will accurately showcase your business colors, logo and information-your Webcard will be a visually pleasing and effective advertising extension of your business website! |
| Analytics | For Pro Webcard users, you can add Google Analytics so you can view traffic and statistics from your mobile website. Customers will have access through their control panel that allows them to add Google Analytics, and Facebook Tracking pixels for running Social Campaigns to land on Webcard. | Adding Google Analytics and Facebook Tracking Pixels allow you to track visitors and drive additional audience through PPC and Social Campaigns. |
Upgraded Customers
You will be notified as soon as your migration is complete and the new Webcard product is live in your account. There will be a Webcard editor added to the Account Manager dashboard. Your Webcard login can also be accessed through your online Account Manager.
How to Access Webcard
Please follow the steps below in order to access the Webcard editing tool.
1. After logging into your online account manager tool, select the "All Services" tile.
  


  2. From the displayed results, click the "Manage" link to the right hand side of the Webcard labeled product.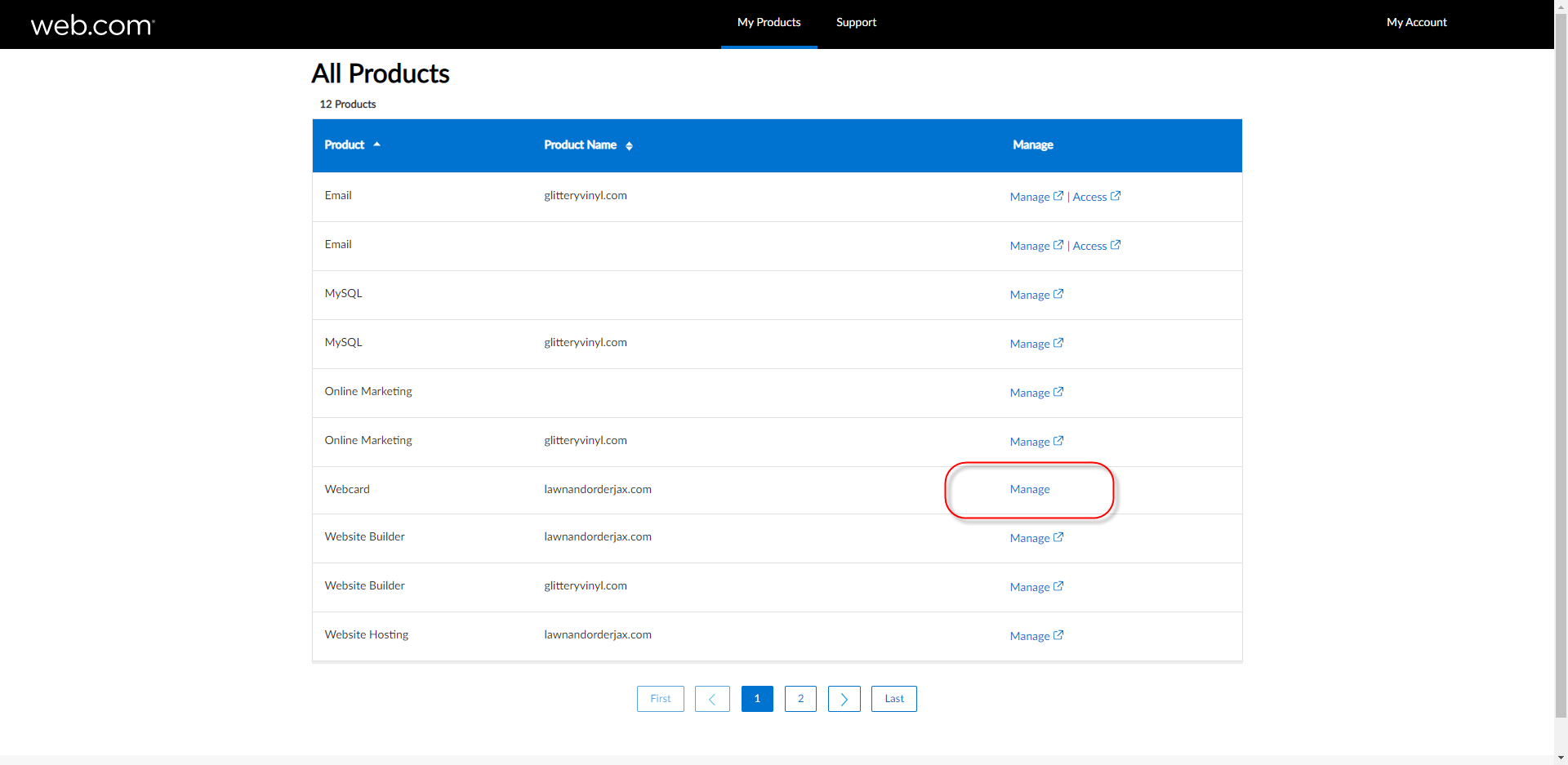 If your Account Manager shows as the image below, please follow these steps:
1. After logging into the Account Manager, select Mobile Products on the left-hand side of the page.
2. The page will resolve to your Mobile Product management tools. To launch the editing tool for design or text changes, click on the Launch Set Up Assistant button.
Editor Tool Options
1. Once the Webcard editors appears on your list of products, you can then access the Webcard Dashboard.
The following information has already been migrated to the new Webcard from the previous mobile website:
Business Name

Business Description

Business Street Address

Business Email Address

Website domain name to link with the Mobile Website product/desktop domain name view

Business Hours of Operation

From here, you can choose to add other features of your choice, including images, announcements, map and videos, logo, and payment options.
Note: If you would like to change the color scheme, simply navigate to the templates section, click Custom Style and you will have the ability to reset or apply a different color scheme for better readability.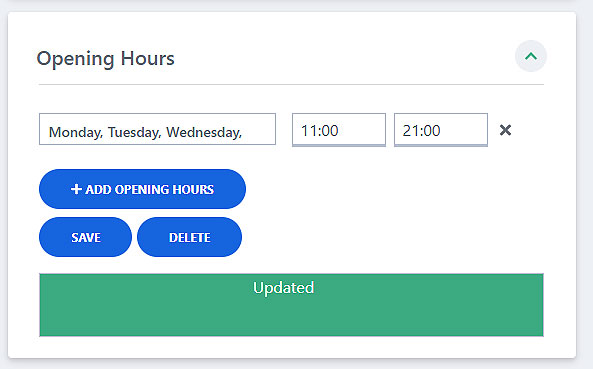 Note: E-mail address is linked to the "Send Us a Message" text. In cases where there are multiple e-mails on the account, Webcard will show multiple links to send a message. If that layout is not your preference, you can easily adjust in the Webcard editor- simply update the label or delete any e-mail addresses that are not required.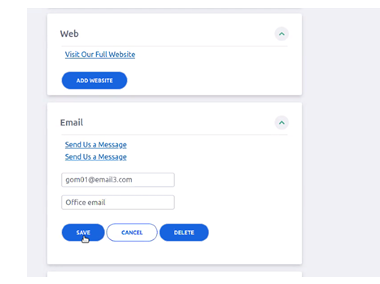 2. Once complete, you are ready to publish your Webcard.
3. Any edits or changes you make now or in the future will always publish in just a matter of minutes!
4. You can also opt to share the new Webcard by email or physically printing it out.