To connect to your managed social and site directories, a few simple steps are required as follows:
Accessing Business Directory:
1. Login to your Account Manager.
2. From the Account Manager, select "Online Marketing Services" in the navigation on the left side of the page.
3. From the Online Marketing Services page, click on "Business Directory".
Business Directory will open inside our Online Marketing Hub interface.
4. Select the Site Submission or Social & Mobile Services that you want to connect.
5. Click "Connect".
6. Click "Start".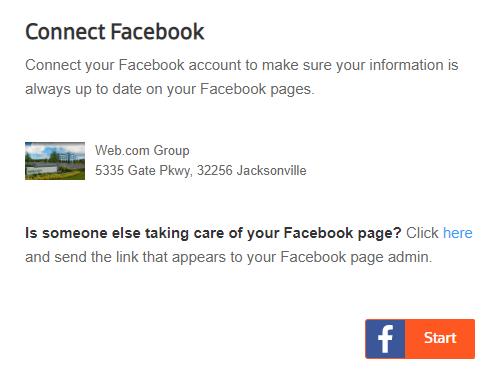 7. Log in using the account that already has the business listing (Facebook page example), or in which you want to create the business listing.
8. Click to continue to your account.
9. Select "OK" to allow access to manage your account.
If you do not have an account and wish to create an account, follow the steps below.
1. Select "Create a New Facebook Page" to create a new account.
2. Click to "Create a new Facebook location" and follow the guided steps to complete this as outlined above.