---
Important: This article applies to Web.com® customers only. 
---
In your Account Manager, you can easily view how many support tickets you have in your list.
Here is how you view your current list of tickets:
1.  Click here to log into the Web.com Account Manager. 
The Home page of your Account Manager appears.
2. In the main toolbar, click the Support menu. Then select the  Online Customer Support option.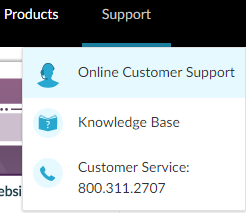 3. On the Support page, review the tickets that appear in your list.
4. Or, in the search bar, enter a keyword, comment, or ticket number.
Press Enter on your keyboard or click the Search icon to return the tickets that are currently being worked.
---
Note: Check the Status column to review the progress being made on your ticket.
---
You have viewed your current list of support tickets.