---
Important: This article only applies when installing WordPress from open source apps for Shared Hosting Packages.
---
WordPress® is a free software publishing tool that anyone can use to create, maintain, and publish a business website or blog.
No design or coding skills are necessary to create a website with WordPress. You can choose from different design templates and themes to create your website. And you can use plugins and widgets to easily customize your website or blog.
1. Log into your Account Manager.
2. Go to My Hosting Packages.
---
Note: If you have more than 1 hosting package, you will need to select the package you'd like to manage by clicking the MANAGE button on the right side of the page.
---
3. Scroll down to the Site Enhancements section. Click the Open Source Applications icon.
4. You are provided with a list of open source applications that are available for a one-click installation. Next to the WordPress application, click the Add New button.
---
Note: If you already have an application installed, you will need to click the View Open Source Applications button to get to the open source applications page.
---
5. On the Set Up and Installation panel, select the domain name and location where you want the WordPress files installed.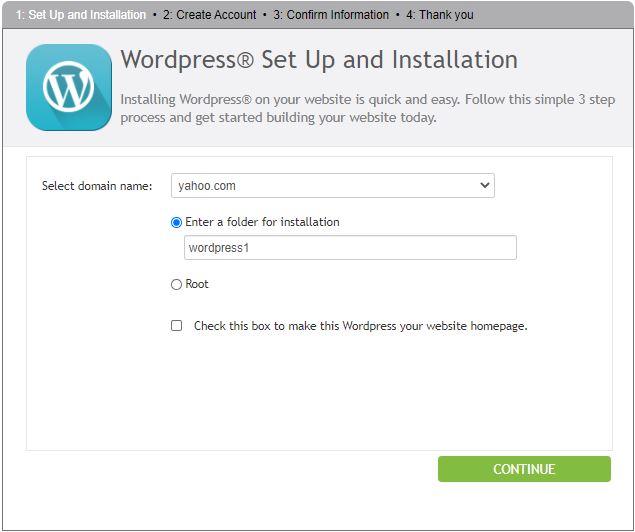 6. Click the Continue button.
7. On the Create Account panel, complete the following fields:
8. When finished, check the box to accept the terms, then click the Continue button.
9. Confirm your information in the following panel. Click the Confirm button.