Note: 
This article applies to Network Solutions® customers only.
Overview
Follow these steps to set up Microsoft Hosted Exchange:
Assign a Domain
1. 

Click here

to log in to your Account Manager.

2. On the left side of the page, click Email.
3. Click Manage next to your Microsoft Hosted Exchange Service.
4. Select Go next to the Action Item that asks you to Assign a Domain.
5. From the drop-down menu, select the domain name you want to assign. If your domain name is not registered with Network Solutions, you should select the option that says, "If you would like to assign a domain name that is not listed, click here."

6. Please allow 30 minutes for the domain to assign to the server. Creating mailboxes before the domain is fully assigned can cause issues when setting up mailboxes.
Note: Before you can assign a domain name to your Hosted Exchange package, you must first unassign any nsMail boxes that are configured at that domain name.
DNS Settings
TXT: v=spf1 include:hostaccount.com ~all
MX: Priority 10 server1.inboundmx.COM
MX: Priority 20 server2.inboundmx.COM
CNAME: Alias - mail.domain.COM. HOST email.hostaccount.COM
CNAME: Alias - autodiscover.domain.com. HOST autodiscredirect.hostaccount.com
Set Up Your Mailbox
1. Once your domain name is assigned to your Hosted Exchange package, open the Control Panel from the Hosted Exchange Overview page.
2. From within the Control Panel, select Exchange - Add New Mailbox.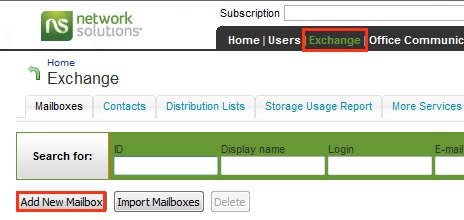 3. Enter the Display Name, Login (email address), and Password.
Note: The minimum length for a password is 6 characters of different types (uppercase and lowercase letters, numerics, special characters). If there are only three different types of characters, the minimum length is 7. If a password is word-based, or less than three different types of characters, the minimum length is 8. There should be enough different characters in a password. The number depends on password class (longer for word-based passwords or passwords with few different character types).
4. Select the domain name from the drop-down for the email address you want to create.
5. Click Next.
6. Confirm the email address and add or change the alias if needed.
7. Select the Size Limit you want to set for the email box you are creating.
8. Check the box next to the access methods you need for that email box, including ActiveSync if you have purchased it.
Note: You must choose at least one access method.
9. Click Finish.
10. If you enabled Outlook Web Access(OWA), that user will be able to log in to their webmail by typing https://email.hostaccount.com/owa into their browser.
Note: The username for OWA is case-sensitive. Use the full email address exactly as it shows in the Control Panel. Also, creating an Exchange mailbox will create a Service User. If you set up the Service User and do not choose the option to add Exchange, you will have a login with no mailbox attached to it.
SPAM Filter Setup
Boundary Defense for Email is the SPAM filter provided with your Exchange service. You are responsible for setting up and managing this service. See the Help & Support tab of the Hosted Exchange Control Panel for setup options and details.
To get to Boundary Defense, click the Boundary Defense for Email link on the homepage or go to the More Services tab.
1. Click the Show Password button and copy the login information.

2. Click the link to log in to the control panel.

3. Log in using the login information from the previous page.

4. The first time you log in, it will ask you to set up your security questions to activate Boundary Defense.
Configuring Outlook
1. Access the Mail option from the Control Panel of your computer.
Note: The location of this depends on your Operating System.
2. Chose the option for Email accounts unless you would like to create a separate profile first. A profile would be used if you would like to keep this email account totally separate from your others.
If you are using any Outlook version previous to 2010, then this is a requirement.
3. Enter your name as you would like it to be displayed on your outgoing messages, email address, and password. When you are finished, click Next, and the Auto-Configuration process will begin.
4. The next step will search for email settings. This typically takes about 5 minutes. In the course of the search, you will see a popup window that asks if you would like to allow Auto-Configuration to continue. Select Yes to this and select the box that says Always Allow.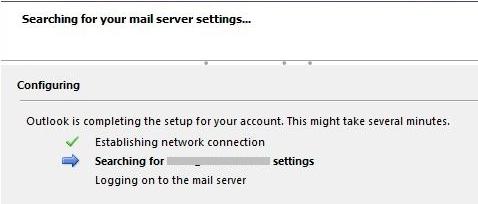 5. Outlook will notify you that the setup is complete. Click Finish.
Note: If you receive an error "The DNS may not have propagated to your location yet," it may take up to 24 hours to become fully functional.
Distribution Lists
Distribution lists help you organize your addresses into groups that you can send to all at once. For example, you can create a distribution list called "Sales" and add all your sales staff to that list. When you send a message to "Sales", it will deliver that message to every one part of that distribution list.
From within your Control Panel:
1. Select Exchange, Distribution Lists, Add New Distribution List.
2. On the first panel of the Add New Distribution List wizard, enter an Alias, Display Name, and Email Address for the new distribution list. Keep the checkmark next to Show in Address Book—this will display the distribution list in your Organization's Global Address List (GAL).

3. Next, you will need to select a security level to determine who this distribution list can accept messages from.
Everyone: Everyone inside and outside of your organization can send messages to this list.
Organization: Only members of your organization can send messages to this list.
Members: Only members of the list can send messages to it.
4. Click Submit to create the distribution list. You will notice that it will have a status of Creating for a few minutes. Once the status changes to Ready, then you can begin using that list.
5. To add members select the list you want to add them to by clicking on the list's Display Name.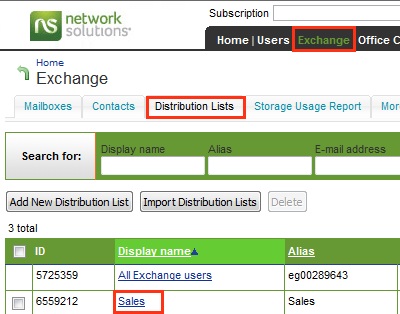 Note: To add an external address, you must first add that address to your contact list.
6. Click the tab that says Members, then Add New Member.
7. A list of available users will display. Place a checkmark next to all users you want to include in the new distribution list, then click Submit.
Resource Mailboxes
Resource mailboxes are created to represent conference rooms or shared equipment. They can be included as resources in meeting requests and provide a simple and efficient way to utilize resources for an organization. There are 2 types of resource mailboxes that you can create; room and equipment.
Room mailboxes are assigned to a meeting location, such as a conference room, auditorium, or training room.

Equipment mailboxes are assigned to a resource that is not location-specific, such as a portable computer projector, microphone, or company car.
When creating a resource mailbox, make sure you include the details of the location and capacity.
1. Click the Exchange Tab, More Services, Resource Mailboxes, then Add New Resource Mailbox.
2. Enter the Alias, Display Name, Email Address, and Size Limit.
3. Select either Room or Equipment depending on what type of resource mailbox you are creating.
4. Enter the location and capacity, then click Submit.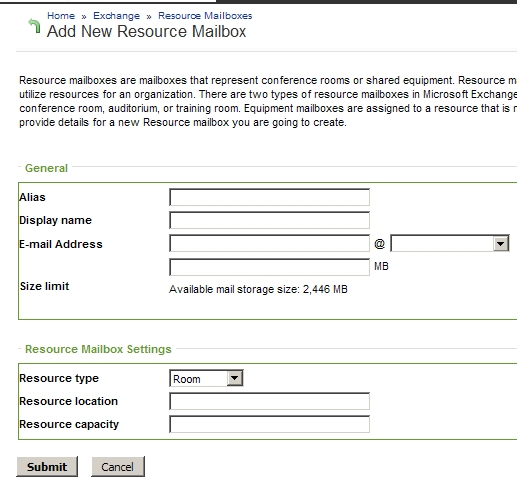 When you create a calendar event, you can book a room or resource and see if it is available.
Public Folders
This section of your Control Panel allows you to create, delete, and manage Top-Level Public Folders on your Exchange Package. Public folders are for mail items only. It is recommended to use a Shared Calendar or Contacts in an individual's mailbox for a group calendar or address book.
1. Click the Exchange Tab, More Services, Public Folders, then Add New Public Folder.
2. Select where you want this Public Folder added to, then click Next.

3. Type in the Folder Name, Size Limit, and select the Default Role that each user will have.
4. Click the checkbox next to Mail-Enabled to select to receive email from any email address or just the ones within your organization.
Note: The Root Public Folder of the organization's hierarchy is auto-configured and is not editable. For example, "P001049672".
Company Disclaimer
The company disclaimer is a statement that is automatically added to all outgoing emails.
1. To access this option, click the Exchange tab. Then, select More Services > Company Disclaimers > Add New Disclaimer.
2. Enter a display name, select which recipients you want to receive the disclaimer, and click Next.
Congratulations! You have now set up your Hosted Exchange package and can now begin using your email address.